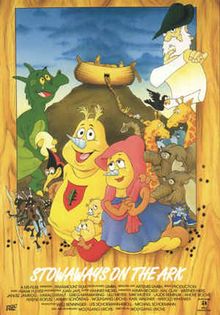 Watch online
Trailer
Stowaways on the Ark
(In der Arche ist der Wurm drin)
Directed by:
Wolfgang Urchs
Cast list:
Country:
Germany
Year:
1988
Genres:
Adventure / Animation /
Runtime:
82 min.
Language of the film version shown in the current academic year:
The Flood has been announced and Noah fills the Ark with animals from all around the world, among these are some curious stowaways: the worms from the wood with which the ship was built. When the water level rises these small animals will prove crucial to prevent the boat from sinking.
Educational Grades:
Infant school##COMA##Primary school##COMA####COMA####COMA####COMA####COMA####COMA####COMA####COMA####COMA##
Subjects:
Catalan language and literature / Natural science and social sciences (Primary School) / Religion /
Topics:
animal world and pets / ancient civilizations, archaeology, mythology /
Related News
Links
Answers. Online resources
If, after looking at the classroom materials in the Online Resources section, you are interested in the answers sheet for these activities, you can get in touch with us via our email address: info@cinemaperaestudiants.cat
The price of the answers sheet is 3 € each.
Online activities
These interactive activities are an educational initiative of the Terrassa City Council, through the Municipal Board for Education, and of a team of teachers at Torre del Palau Secondary School in this city. Their goal is to promote the use of new technologies in the classroom.
From the school year 2011-12, these interactive activities can be found on our website www.cinemaperaestudiants.cat with the aim of offering another educational tool for all those teachers and students who are interested in them.

Skip this page